Free eBook Download
Unlock the Secrets to DEIB Transformation at Work
This e-book is designed to help you understand the "why" behind DEIB, grasp your organization's level of maturity, and provide you with specific actions you can take to promote diversity and inclusion throughout your organization. Grab your copy to take on the go.
About the eBook
DEIB in the workplace is where everyone feels equally involved and supported in all areas, regardless of who they are or what they do for the business.

In order to achieve this, organizations need to consider the whole person and how systemic barriers and access to opportunities can affect people's well-being.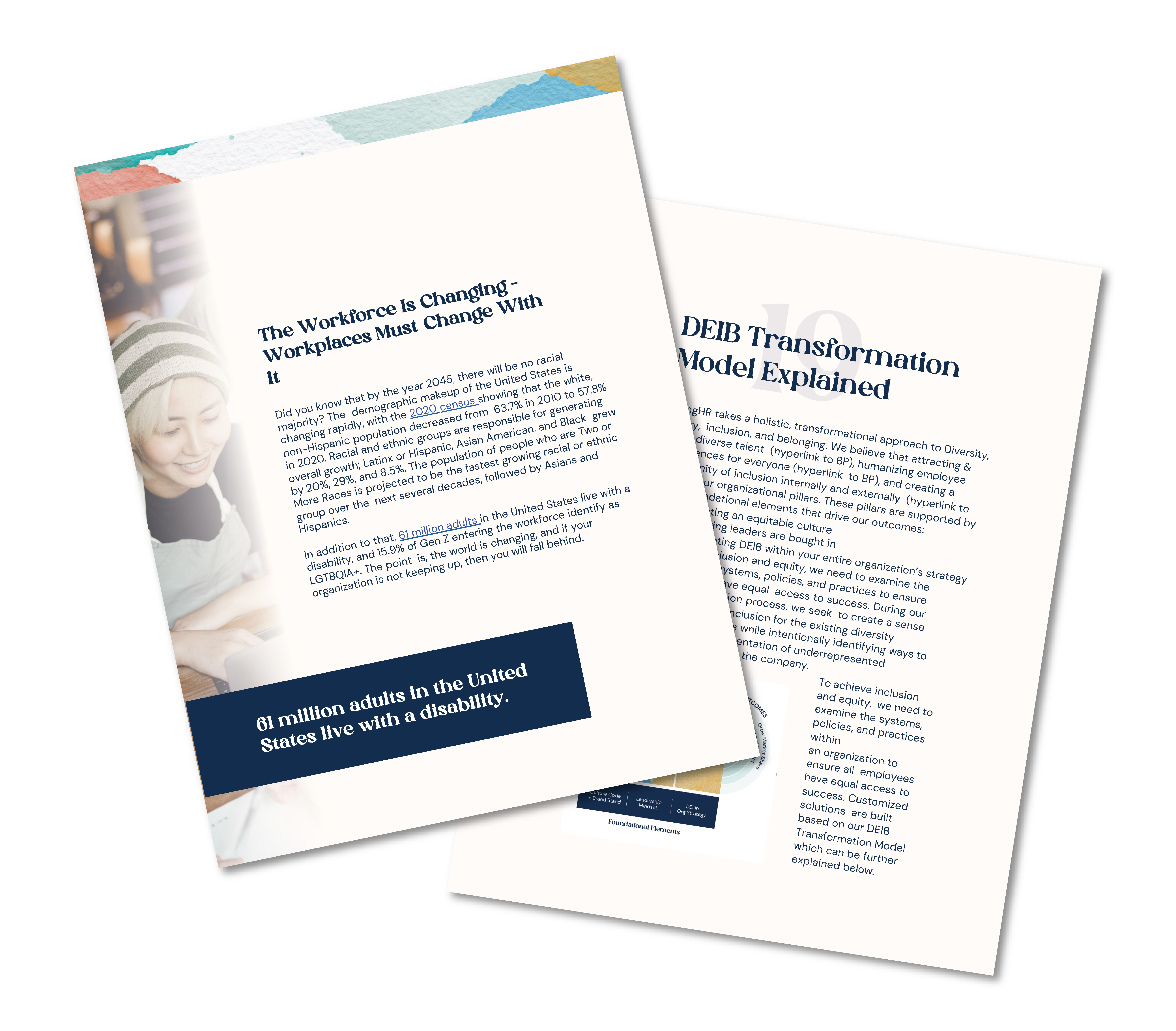 Chapters Included
What's Included in the eBook
Why DEIB in the Workplace is Important
We spend 90,000 hours in our lifetime at work – an abundant amount of time away from family, loved ones, and hobbies. The "employee of the now" is reconsidering their relationship with work and whether or not that relationship honors their human need to be themselves. If they are not treated with compassion or do not feel seen, valued, or heard at the place where they spend the majority of their lives, then they will find an employer that will offer them that sense of psychological safety and belonging.
Self-Assessment: How Diverse is Your Organization?
Do you know where your organization falls on the DEIB Maturity Model? Take the self-assessment to gauge where you are and where you want to be. This maturity model is not a one-size-fits-all approach and is meant to ebb and flow based on your company's goals and strategic initiatives.
Our Approach: DEIB Transformation Model Explained
livingHR takes a holistic, transformational approach to diversity, equity, and inclusion. We believe that attracting and hiring diverse talent, humanizing employee experiences for everyone, and creating a community of inclusion are our organizational pillars.
Actions to Take Now to Attract and Hire Diverse Talent
Do you have a compelling talent brand that candidates are eager to join? Does it fully align with what your internal culture shows? Ensuring that you broaden your talent pool, avoid biases in job descriptions, selection practices, and the interview process, and convey your DEIB approach in your talent brand will show your candidates that diversity and inclusion are essential in your workplace culture.
Actions to Take Now to Humanize Your Employee Experience For Everyone
Most organizations understand that the talent experience does not stop after the individual is hired, but DEIB efforts almost always end there. Intentionally focusing on humanizing the entire employee journey, recognizing that everyone has lived vastly different lives with diverse experiences, is what it truly takes to move the needle. Focusing on fostering an inclusive environment of continuous learning, feedback, and equitable business practices is incredibly important in retaining talent and humanizing the employee experience.
Actions to Take Now to Create a Community of Inclusion
DEIB transformation doesn't stop within your workplace walls; organizations that break down those walls and connect with external communities drive employee engagement and boost morale. So, how do you create an inclusive community? You start by building a culture that shares a greater purpose -- one that your employees can feel good about and truly rally behind. Start by learning what your employees are passionate about, and encourage give-back opportunities. Employees that feel connected to your purpose will be more engaged and fulfilled.